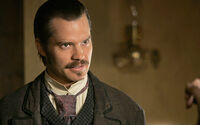 Seth Bullock, is a former U.S. Marshall of the Montana Territory, Co-Owner of Star & Bullock Hardware, and Sheriff of Deadwood.
In the Pilot, we see Bullock watching over inmate Clell Watson, who has been convicted for stealing a horse. Clell attempts to negotiate with Bullock for his release, but they are interrupted when Sol Star informs them the horse's owner has gathered a drunken angry mob, and they are waiting outside, demanding Bullock hand over Clell to them. Bullock confronts the mob, and refuses to hand over Clell. He takes down Watson's last words, hangs him, and then gives them to a mob member who volunteered to take them to Watson's sister. Bullock and Star then leave for Deadwood in a wagon...
Read more...

Loading RSS data...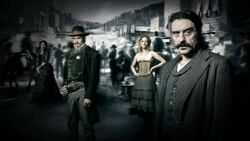 On July 25, 2018, HBO confirmed that a Deadwood movie has been approved. Dan Minahan will direct the film. Production will begin in October 2018. The film is said to be set in the year 1889, approximately 12 years after Season 3. Read more...


Are you excited about the upcoming Deadwood movie?
Community content is available under
CC-BY-SA
unless otherwise noted.